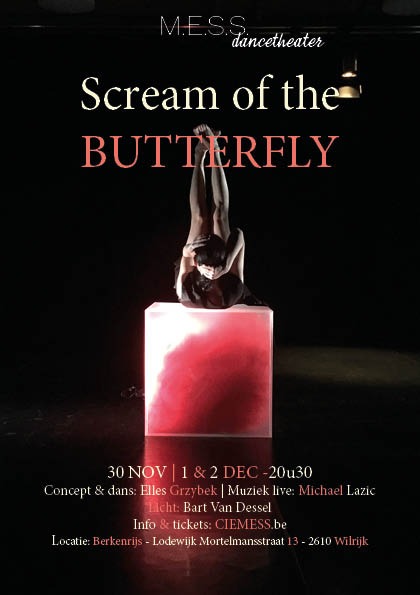 Scream of the Butterfly
"Scream of The Butterfly" is een intieme solo die inzoomt op de minder fraaie ervaringen van vrouwen tijdens de corona pandemie .
Uit studies blijkt dat de gendergelijkheid tijdens de pandemie 40 jaar is teruggedraaid en dat vrouwen werden teruggedrongen in oude gedateerde genderrollen, met als gevolg een verhoging van huiselijk geweld en misbruik.
"Scream of The Butterfly" is een eenzame woordeloze kreet geïnterpreteerd en gedanst door choreografe Elles Grzybek op live muziek van Michael Lazic. Het publiek wordt ondergedompeld in een confronterende sfeer van beperkingen, onmacht, opgesloten worden, vernederingen. En toch, toont Grzybek hoe krachtig en veerkrachtig vrouwen kunnen zijn. In een wereld waar vele smeekbedes niet gehoord worden laat ze de schreeuw van een vlinder oor overdonderd nagalmen in haar beklijvende solo.
Stijl: hedendaagse dans met live muziek
Idee en concept: Elles Grzybek & Michael Lazic
Choreografie en dans: Elles Grzybek, en Michael Lazic
Compositie muziek: Michael Lazic